bluesnews magazine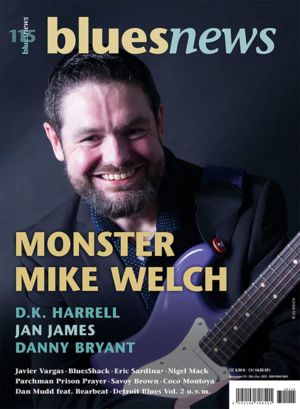 • German-language Blues & Blues-Rock magazine
• Available at newsstands in Germany and Switzerland
• On the market for 28 years
• More than 4,500 subscribers
Overview
The Blues is our big passion – in all its many facets. Our motto is to discover new music and to preserve the old. bluesnews informs about news from the blues scene, interviews artists, remembers pioneering musicians and groundbreaking recordings in the "Blues History" series, but also presents talented newcomers. Every issue of bluesnews features more than 100 CD, LP, DVD and book reviews, plus tour/festival previews, concert reports and much more.

Our authors are independent, knowledgeable, and diligently research their articles about all styles of Blues, from traditional to modern, from acoustic Blues to Blues-Rock. Related styles such as Zydeco, Cajun, Soul or Southern-Rock are also taken into consideration.

Since 1995, bluesnews has been published quarterly; it is a magazine that appeals to Blues lovers as well as Blues musicians, festival organizers and Blues agencies. It is the editorial policy of bluesnews to keep in close contact with its readers in order to obtain as many suggestions and requests as possible. Because bluesnews is not only a special interest magazine for Blues, Blues-Rock and related styles, it is also a magazine made by Blues fans for Blues fans.


Sending Review CDs or LPs to bluesnews
bluesnews magazine presents up to approx. 120 new releases in every issue. Our reviewers prefer actual physical copies of the albums. Please send CDs and LPs to the following address:

bluesnews
Freiherr-vom-Stein-Str. 28
58762 Altena
Germany

If you send us a CD or LP from a non-EU country such as the U.S., Canada, Great Britain, Switzerland etc. you must include a customs declaration on the package, which declares the contents as "CD promotion copy" with a value of 0.- dollars (or pounds, Swiss francs etc.). If your package from a non-EU country does not include this declaration, bluesnews must refuse the delivery due to costs of around 20 euros (approx. 22 US$) for import tax and processing charges.


Sending Digital Albums for review to bluesnews
bluesnews magazine also presents digital albums. Please send the link to the stream or download by e-mail to Redaktion@bluesnews.de and write "Review Copy" in the subject line.


Further information
bluesnews can only consider part of the physical albums, streams and downloads received for review. Albums that were issued six or more months ago are usually not reviewed. Please also note:
- Singles and EPs are not reviewed
- Links to fee-based streaming platforms and YouTube are not considered
- E-mails with music files as attachment are not considered

When a physical CD or LP is reviewed in bluesnews, the sender receives a free copy of the respective issue by mail. In case of stream or download reviews this is unfortunately not possible.


Yearly schedule 2023
bluesnews is published quarterly on April 1st, July 1st, October 1st and December 10th every year (or the following working day).

Advertisements must be submitted by the respective deadline.
Street date = First day of newsstand sale
Media kit
Publisher
bluesnews has been published quarterly since 1995. Publisher: Verlag Dirk Föhrs. The family business was founded in 1994 and is located in Altena in the middle west of Germany.
contact

phone

+49 2352 21680